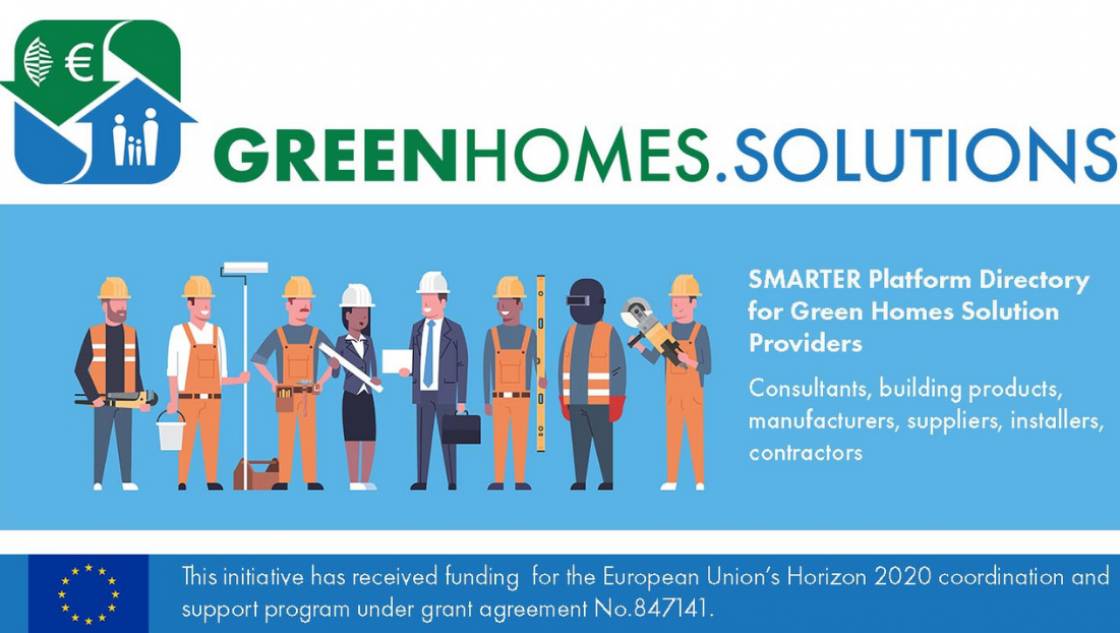 SMARTER Green Homes Solution Providers
What it is, who it's for, what it does, and the reason it's been created:
GreenHomes.Solutions is a platform with a directory that comprises the Green Homes Solutions Providers. The 'Solutions Providers' include all companies that provide services and/or products necessary to the realisation of a green building (i.e. architects, designers, consultants, building materials and equipment manufacturers, and construction contractors etc). The Green Homes Solution Providers listed on the platform are assessed according to the Green Homes or other local green certification (i.e. HPI in Ireland, or GBC Home in Italy) methodology. The products and services must comply with the certification requirements.
The main objective of this platform is to provide architects, design teams, or certifiers pursuing a Green Certification with the relevant solution providers. The platform will simplify the certification process by allowing users to easily communicate with the companies that provide the products and services needed for project certification.
How it helps us, who should join, how to use it:
GreenHomes.Solutions helps one of SMARTER's most important stakeholders, the Green Homes Solution Providers. Green projects usually command a premium value, part of which results in higher profit margins for our green solution providers. A platform that connects them directly with the developers, architects, designers or certifiers is a great tool to create business opportunities for the solution providers.
The process is simple. First, we do an assessment on the products of a company willing to become a Green Homes Solution Provider. Upon our positive assessment and payment of a yearly fee, that company is listed on our platform as a recognized Green Homes Solutions Provider. If products/services meet the green certification requirements, the Green Home Solutions Provider certification is conferred. The company gets a certificate for the products/services assessed, and maintains certification through a yearly fee. The platform is currently operating under beta testing and we update it regularly with new Green Homes Solution Providers from the SMARTER countries. Click GreenHomes.Solutions for more.
The platform will be governed by the SMARTER consortium at the end of the H2020 project. The platform operator will also be determined by the SMARTER consortium.